Telf.: 93-345.23.41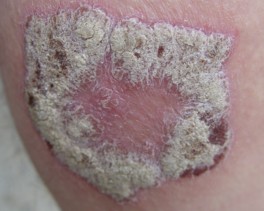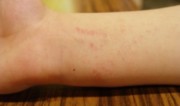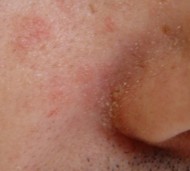 Farmàcia dels llicenciats
PERE FRANQUESA i GRAU
JOAN FRANQUESA i BORRÀS
JORDI FRANQUESA i BORRÀS
08030 BARCELONA
Telf.: 93-345.23.41
Farmacèutic: Jordi Franquesa i Borràs
Col.legiat a Barcelona nº 9.099
DANDRUFF:
Presence of scale with variable size in the scalp, accompany with frequency by itching and reddish.
The people that have dandruff, with frequency suffer of DERMATITIS SEBORREICA in the skin face.
The XAMPÚ CONTRA LA CASPA 1842 eliminate this importants annoys of mode very soft and effective, this leave soft the hair and neither grase neither dry.
We recommend:
DANDRUFF: Use the XAMPÚ CONTRA LA CASPA 1842 2 or 3 times at week so that:

1.-Agitate the bottle.

2.-To soap the hair and make clear.

3.-To soap the hair and leave rest the foam in the hair during 4 or 5 minuts, after this make clear with abundant water.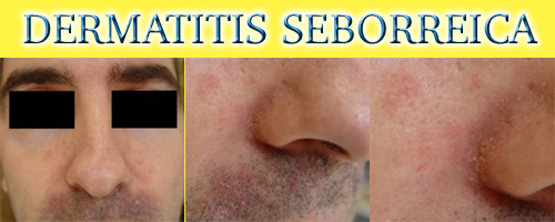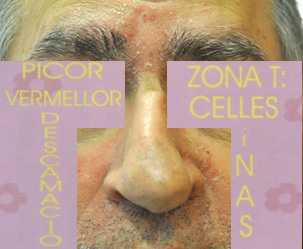 presence of pink skin, with yellow and thin scale, with greasy tact, that afect the grase zones of the skin, eyebrow and laterals of the nose (zone T).
Is important not confuse dry skin with dermatitis seborreica, because excess of grase are one of this causes. Is important avoid use of cosmetics with excess of grase and oclussives for dry skin.
Elaborate exclusive with vegetal oils.

FACIAL SEBORRHEIC DERMATITIS : Use CREMA PREVENT AGE 1842 morning and nigth, just a massage,easy absorbtion, bringing an excellent moisturizing, your face will not be oily and seborrheic dermatitis will disappear.

Per la nit o tarde netejar el cutis amb el TÓNIC HAMAMELIS 1842, empapar un cotó amb el tònico y arrosegar per el cutis para treure el maquillatge o les impureces acumulades durant tot el día.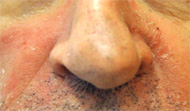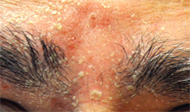 Vermellor, descamació i picor.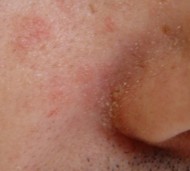 Detail: yellow and thin escale.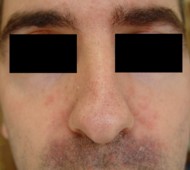 Seborreihc dermatitis.
Don't think it's dry skin..